Lisa Nelson, the First Janie

I'm Lisa Nelson. I was inspired to start the Janie Appleseed (SM) Network after experiencing the challenges of becoming a caregiver and legal guardian for my aging parents. Navigating the aging process and the healthcare system for my Mom and Dad opened my eyes to this situation many will face as the Boomer Generation enters their twilight years.
My own views about holistic health and balanced living influence my dream to create new solutions that help people live differently, in ways that focus on staying healthy rather than recovering from illness. Fundamentally, I believe that every individual can and does make a difference. I think harnessing the energy of many individuals into a unified movement can bring change in positive new directions.
Information technology is changing the way we live in dramatic ways. For example, my Mom was a nurse and she taught me so much about health and nutrition and how to live in healthy ways, but she didn't teach me how to manage my health information using an electronic Personal Health Record. This technology didn't exist back then. Our generation is creating these new capabilities and part of what we need to do is develop the patterns for how to integrate the new information technology into everyday living.
It would be extremely hard for a person to do that by themselves. But with a broad network of people working together, we can begin to address this kind of change. The Janie Appleseed Network helps us share this new know-how with each other as it is developed.
I'm deeply involved in the technical, regulatory, and standards aspects of electronic medical records at the national level. Think of me as your voice and your advocate for better access to your health information.
I'm driven to make Janie Appleseed a reality for three reasons.
First, I see health and wellness from a very holistic point of view. In our efforts to reform healthcare, I want to contribute a broader view in how we define what it means to be healthy.
Second, I feel a great deal of responsibility for taking care of my family At one point in my life, when my parents were really needing my help, and my kids were still in school, I almost had to quit my job. It was so hard. I was used to using technology to help me be more efficient and more effective, but the kind of technology I needed wasn't available. My sister and I started building and sharing excel spreadsheets to keep track of our parent's health and financial information. We felt there must be a better way.
Third, I enjoy contributing to my community. I like when I can do things that help other people reach their full potential. I also love the satisfaction of making a business that creates new jobs. When you stand on a sports field or go to a community event, and see people who are feeding their families because of the jobs your ideas have created, that just feels awesome.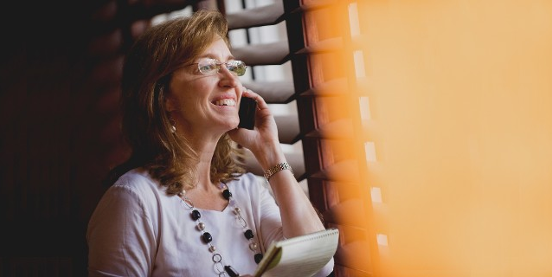 I'm 54 years old. I've seen the health issues people face. It isn't easy to make changes or live differently, even when we really want to. Think of what it takes to proactively make healthy choices, address accidents, manage chronic conditions, deal with depression, or fight a battle against a terminal illness. I believe information technology provides a tool to help us see our lives as they are, and envision them as they could be if we make different choices. I think a PHR is a personal tool for dealing with the very personal issues of what happens to us in our lifetime. It's a tool to help us make personal decisions throughout the course of our life. Making this vision a reality is what drives me.
What's in it for me personally?
Someone once told me there are two important days in a person's life: the day you were born and the day you realized why! I feel like Janie Appleseed is my life's mission revealing itself to me every day in a very tangible way. I'm using my technical skills to create HIT standards and PHR software. I'm using my business skills to create an organization that will help create 21st Century jobs. I'm helping my community by establishing ways for people to gain computer, communication and leadership skills that will help secure their future livelihood and provide them with good paying jobs that brings a sense of accomplishment and fulfillment. I'm building a new and more collaborative type of organization that grows and shares the success of growth in a more evenly distributed way—more like a tree and less like a pyramid. I'm creating an organization that has the potential to become a countervailing force in the healthcare ecosystem—a force that is essential for finding a healthier balance in the healthcare industry than we have today. Ultimately, I'm helping individuals become effective managers of their health and wellness where they live, work and play by enabling them to integrate information technology in how they live life. Janie Appleseed simply feels like I'm doing what I was meant to do, and that's a very rewarding sensation for me.